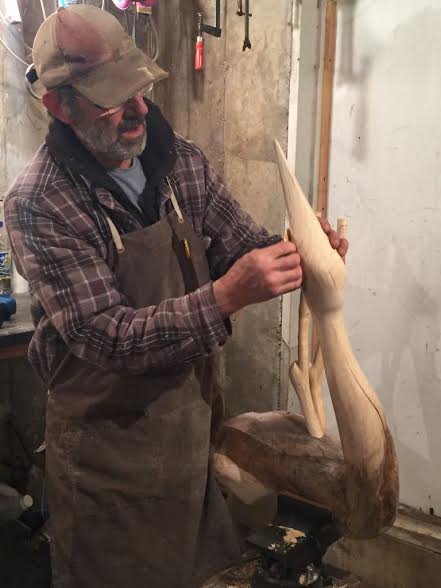 AJ was born the last of seven children in Lower West Pubnico, Nova Scotia, a small Acadian fishing village where only French was spoken for many many years.  Fishing was nearly everyone's way of life, so naturally at age 16 AJ left schooling behind and joined the profession of his ancestors.
Although a natural artist and lover of nature, AJ lived the busy life of a fisherman, unable to truly appreciate both his talent and his surroundings.  After retiring from the busy fishing life recently, he began to notice the beauty of local driftwood on Nova Scotia shorelines.  With his artistic eye, he is able to see birds in many pieces, waiting to be revealed.  With time and gentle manipulation, he brings those birds to life in his workshop.
He and his wife of 42 years married young as many did in the early 70's, raised two beautiful daughters and have been blessed with four amazing Grandchildren.   AJ and his wife still live in the small village in which he was born, with family and friends nearby.
For AJ, these birds represent the beauty this world gives us, if only we slow down and take time to really sea.
"Every block of stone has a statue inside it and it is the task of the sculptor to discover it."

-Michelangelo